Tag: KyotoProtocol
Day-long Event Sees 14 States Parties to Treaty Deposit Ratification Instruments
World leaders from 175 countries gathered at United Nations Headquarters today for the official signing of the Paris Agreement on climate change, the historic accord reached last December, with …
18 Jun 2015
I thank the Speaker of the Malawi National Assembly, Hon. Richard Msowoya, for inviting me to deliver this lecture here today.
As a former Member of Parliament, Minister, and Prime Minister in New Zealand, I know what …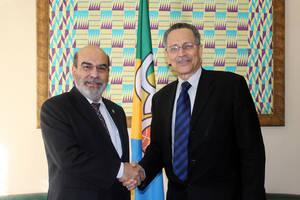 FAO Director-General José Graziano da Silva and Patrick I. Gomes, Secretary-General of the African, Caribbean and Pacific Group of States (ACP).
15 April 2015, Brussels - FAO Director-General José Graziano da Silva, in a speech today to the Committee of …